I managed to watch TV in my geometry class this morning. After explaining that the show has more math and science PhD's on the writing staff than any other show, I played an episode of Futurama. The episode I chose was "2-D Blacktop" which was a mixture of "The Fast & The Furious" and "Flatland." After making multiple jokes about dimensions, the crew of the Planet Express ship actually gets thrown into a 2D world, where Professor Farnsworth explains many differences between living in 2D and living in 3D.
Afterwards, we had an incredible discussion about the differences between the dimension and what it would be like being a 3rd dimensional creature in a 2nd dimensional universe.
Then, just to hurt them, I showed them animation of a hypercube.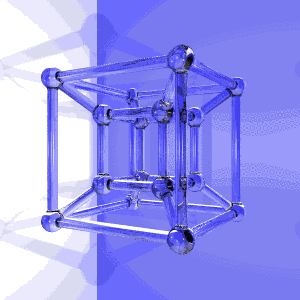 If we had the technology (computers, iPads, smart phones, etc.) I would have had them write down their questions and find the answers on their own.
I'm also toying with the idea of having "Futurama/Physics Friday" where we watch an episode of either Futurama or Cosmos, or something like that, have the students write down questions and then have a discussion afterwards.
I told them at the beginning of the year that I am less interested in them mastering geometry than I am in having them become passionate and interested in SOMETHING. I stand by that statement and I will happily teach them whatever they want to learn, whether or not it's in the curriculum.
Those three paragraphs took me 15 minutes to write as I kept getting distracted by the hypercube.
Before my pre-algebra class even came in, I could feel the dread welling up and was immediately angry with myself. I don't know how to help this class. I spoke with them about my fears and concerns. I talked about classroom dynamics and how ours was thrown off (not ruined, but changed) when the new students entered my room. I explained that it wasn't their fault, but something we were going to have to work on together.
I tried to have a discussion about what they were interested in and they thought it was a trick. They began by giving me answers like "I am interested in music and music is all about math, so I need to learn math." I think we have failed a large portion of these kids. They think every question is a trick question.
Student:
"We would do more work if it was something that we were interested in!"
Me:
"I completely understand. What are you interested in? I will do my very best to make this class a place that you want to come and learn. What do you want to learn about?"
S:
"It doesn't matter."
I know why she said it, but it doesn't change anything.
I pulled an activity from
Yummy Math
about whether a football team should run, punt, or kick a field goal from the 4th down based on where they are. I gave it to two different groups. In one, a great discussion sprouted forth about the situations in which the statistics failed and the shortcomings of statistics.
While they were talking about that, I went to work with another group about Pythagorean theorem. We went through an activity that we did before break about creating squares on the sides of a right triangle. They were working VERY well. Until I walked away.
This is such a common problem, that I want to cry. In a smaller class, I can always be close enough to get kids back on task, but in 4th period, it is simply too big. It feels as though I'm playing a game of academic Whack-a-Mole. No matter how on task a group is, as soon as I walk away, they stop.
There are 5 kids who are able to consistently work independently. I get them started and then make my rounds putting out fires. It doesn't seem to matter what activity we do. Since my class doubled in size, the amount of work that gets done has decreased drastically. I have yet to figure out a formation for the class that allows students to be themselves and still complete the tasks.
Last year, I would have been angry or indifferent about the lack of progress. This year, I'm just sad. I can't get over the feeling that I am failing a large group of kids, some of whom WANT to learn, and I don't have any idea what to do about it.
That depression is starting to carry over to other classes as well. If I'm not serving these students as they should be, I may not be in the other classes as well.
I don't know how much geometry I'm teaching the geometry class. They are interested and involved and engaged, which I really want, but is that my job?
I seem to be solidly in the middle of a crisis of confidence and purpose. I don't know what I'm doing, so I'm going to stop typing right n